Touring
We offer Post Hunt Tours for those who want to see and experience more of what New Zealand has to offer. This tour package is flexible to suit your style and group size and is fully guided by your personal Mountain Hunters Tour guide. Here is our most popular tour package taking you from our lodge in the South East corner of the North Island through the best tourist and scenic destinations to Auckland Airport in 4 full days and 3 nights.
Day 1:
Leave the lodge and travel for 2.5 hours through the heart of New Zealand's sheep farming country to the coastal town of Napier in time to take an Art Deco Tour of Napier's unique architecture dating from when the town was rebuilt in 1931 after a devastating earthquake. Then take some time to wander along the Marine Parade by the sea and do some local shopping including having lunch. Napier is called 'the fruit bowl of New Zealand' and we will drive though a valley of vineyards where we can stop to try some of their wines and other products produced locally on our way to Taupo where we will be based for the next two nights. On the way we will drive over the central spine of the North Island through native bush and forest arriving up on the central volcanic plateau in time to take a soak at De Bretts Thermal Baths and spa/massage* therapy if desired. Accommodation is next to the lake in a lovely fishing cottage with your own room and ensuite and we will serve a barbeque dinner looking out over the lake. An alternative to the soak at De Bretts and barbeque for those who are keen on trout fishing would be to take a dinner/fishing cruise* out on the lake for the evening.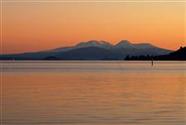 Day 2:
Today we will take in the sights of Lake Taupo, with a visit to the powerful Huka Falls which can include a 45 minute walk through bush, past thermal streams alongside the mighty Waikato River for those wanting a stretch. An alternative here would be to take a jet boat ride* up the river and view the falls from the bottom which is quite an exhilarating way to travel.  Then we would like to take you to visit a friend of ours in this area who has the most amazing display of red deer antlers filling the woolshed on his farm. A picnic lunch there and chat to Murray about anything you want to know about game animals in New Zealand. Then we will travel to Orakei Korako to see the thermal sights - boiling mud, geysers, colourful terraces and a boat ride over the river. On our way back to our lakeside cottage we will stop off at the traditional Maori Village of Tamaki Brothers to be greeted with a Maori welcome onto the Marae, be shown how the Maori's lived pre European times in their villages and treated to a traditional Hangi meal (cooked under the ground by thermal steam) and entertained with Maori song and dance.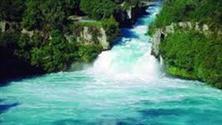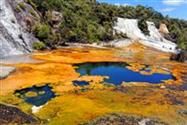 Day 3:
Today we drive up to the Waitomo Caves where there are several options of activities. There are 3 massive cave systems there with incredible sights including floating along in an underground lake looking up at the ceiling filled with millions of glow worms. You might like to do just one cave or all 3. There is also the option of 'black water rafting'* which is floating down through the caves in a rubber tube. At the end of the day we will drive a little further on and stay in the quaint village of Matamata.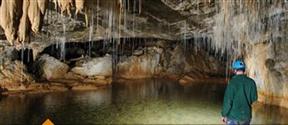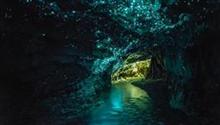 Day 4:
This morning is devoted to visiting Hobbiton which is the set where the Hobbits lived in the film Lord of the Rings and The Hobbit. You get to walk around the twisting paths to each of the little hobbit houses dug into earth and go inside and experience 'Hobbit life'. This really is a 'must see' while you are in New Zealand! Then we make our way up to Auckland airport in time for your flight back home.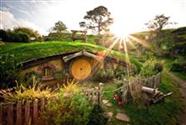 Alternative to Day 3 and 4:
If the Waitomo Caves and Hobbitton don't appeal to you then we suggest traveling up to the Coromandel Peninsula to spend the night at Hot Water Beach. There is a stunning walk to Cathedral Cove and you can soak as long as you like on the beach in your own hot water bath you can make in sand. Here the native bush comes right down to the beach and is very picturesque.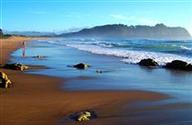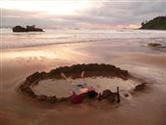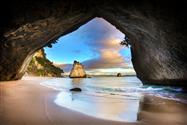 Touring Rates
This tour package is great value at only US $350 per person per day and includes your personal tour guide, travel, accommodation, admissions included (*excluding optional extras), and most meals.