Mountain Hunters NZ Tour - Part 1
Mountain Hunters NZ Tour
Part One – The North Island; Stags, Swazi and Speights Gold Medal
Written by Louise Moody – Mountain Hunters tour guide
"I've got a group of three couples coming over from Texas next year for a hunting trip combined with some touring around the country", said Brent.  "Do you have any good ideas for places to visit and things to do after the hunting?" he asked.
"Well yeah of course", I replied.  After working for an outdoor adventure company in the South Island for two summers, I had a long list of the must do adventures and sights to see off the beaten track.  "Who's going to help you do that, do you need a co-guide?"
"Ideally, I haven't worked that out yet though.  Would you be interested?"
Two weeks away from the office, working alongside my brother, meeting some great people and travelling the country – didn't take me long to reply, "Heck yes!"
Six months later on a sunny morning in April 2015, Brent and I met our group at the airport in a small town called Rotorua in the North Island of New Zealand.  Jarrett and Kelly Vick, Craig and Leslie Macdonnald, and Tony and Janet Sam had travelled from Midland, Texas to join us on the first ever Mountain Hunters New Zealand Tour – a guided tour of the North and South Islands, involving trophy stag, tahr and chamois hunting, as well as checking out some of the most beautiful landscapes and exciting activities around our country, with a healthy dose of wine tasting, trying our local fare, and of course sampling the ample beers on offer.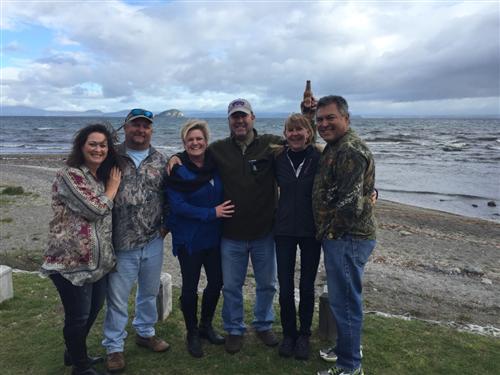 Upon arrival the guys quickly decided that they wanted to travel with Brent in the Mountain Hunters truck, leaving the girls to travel in style in the navy blue Toyota Highlander.  Their decision may have had something to do with the cooler bags of beer in the trunk…which provided the first of many opportunities to crack open an ice cold Speights Gold Medal beer.  No time for jet lag when the holiday had just begun!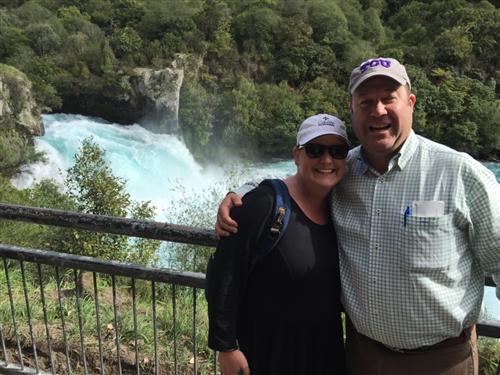 Our first stop was the beautiful Lake Taupo in the central North Island.  Taupo township is based right on the lakefront and is a popular tourist spot, due to the geothermal activity creating hot pools and bubbling geysers, watersports and fishing on the lake and nearby rivers, and skiing, hiking and biking trails on the local mountains.  We spent our first evening on a private fishing charter on the lake, catching plenty of rainbow trout while watching the sunset and drinking 'girlies' – a West Texas favourite featuring vodka, soda and cranberry over ice.  Our home for the next few days was a lodge in a lakeside village just south of Taupo, surrounded by lush native bush.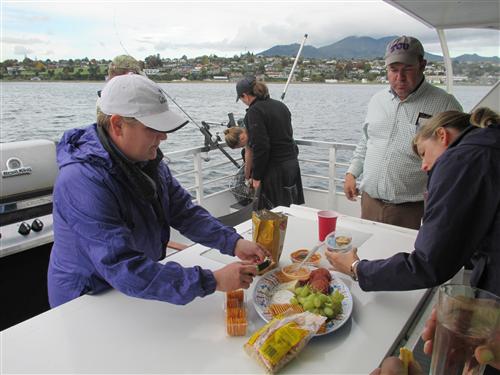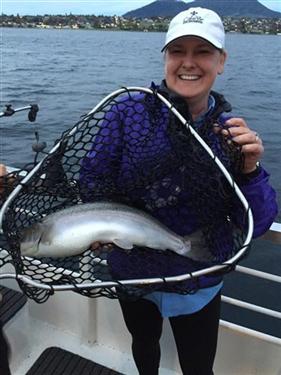 This was a great location for fly fishing for brown and rainbow trout in gentle rivers next to the lake, and visiting long-time family friend, Murray Matuschka at his farm Kitenui Safari Park where he has large herds of Sika deer, Himalayan tahr, and some slightly more exotic animals too – bison, highland cattle, zebras and blackbuck antelope.  We got to look through Murray's converted woolshed, which he's turned into a large saloon style lounge for guests to come for banquet dinners, parties and team building events.  The 'gunroom' walls are lined with historic Smith and Western rifles, Wild West memorabilia, signed photos of Western movie stars who've visited his place over the years, and the 'Antler Room' is decorated with an impressive collection of his best trophy stag antlers.  Murray is an artist too – his workshop holds a collection of his latest landscape paintings and some of his best bronzes; large statues of deer, tahr, and other animals.  When we were there he was part way through creating an elephant! The late afternoons after the days' activities were spent trying the beers on tap at local bars before heading back to the lodge for a meal and nightcap of girlies, Jarrett's favourite scotch and, well, more beer.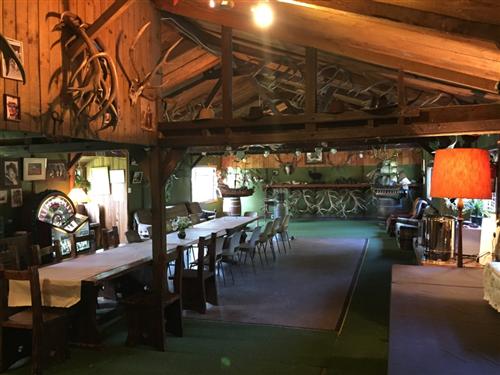 After a couple of days of fishing, the guys were ready for some hunting!  Before this happened, Jarrett cleared the shelves of local stores for some top quality Swazi hunting gear and Meindl hunting boots.  The true hunting poster boy of 2015, once he was sorted with his new kit the guys hit the road headed south to Makanui, the home of Mountain Hunters, with a stop off at the Tui Brewery to sample some more North Island beers.  Time to get down to business and scout for stags!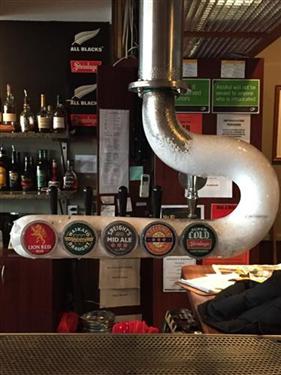 Leslie, Kelly, Janet and I drove to Napier on the East Coast to check out some of New Zealand's best wine making country and have a girls' night out at a downtown restaurant.  We based ourselves in a little cottage in an olive grove, and from there were able to visit two famous wineries; The Mission Estate and Church Road.  The wine tastings were excellent and we all came away with a few bottles of the harvests' finest.  And of course there was shopping to be done! Primarily for New Zealand made merino wool Icebreaker clothing, as well some lovely local designer items after a browse through the boutique shops in the village of Havelock North.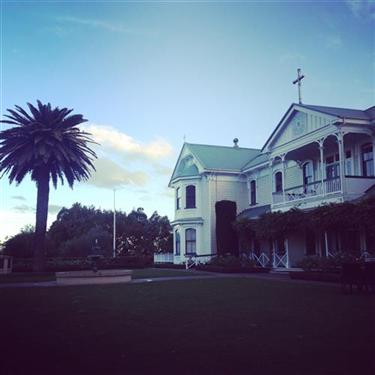 Next day we too headed south, through rolling farmland full of cows and sheep, and arrived at Mountain Hunters HQ in the Wairarapa to join the guys, guide Chris England and mine and Brent's parents, Adrian and Wendy Moody.  With a well stocked bar, Tony's cowboy tunes and a roaring fire, we all settled into the 'man cave' for the evening, sharing the couch with the bird hunting dog Koko who likes to be in on all the action, and with occasional visits from the farm dogs Tip and Rick who wanted to make sure they weren't missing out on any tidbits passing by.  The couples each had their own cottage located in the garden next to the main house and man cave, with the hunting block a couple of minutes away.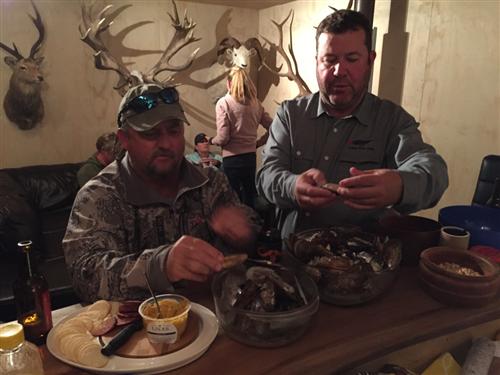 Guided by Brent and Chris, Jarrett, Craig, Tony and Kelly all took beautiful trophy red stags over the next few days, with Jarrett and Kelly also taking Rusa, Sika and Fallow. To mix up the hunting, the girls and I also visited nearby beaches for coastal views and hikes during the day, and spent some time relaxing and chatting, as well as collecting fruit from the orchard which generally became part of that night's dessert.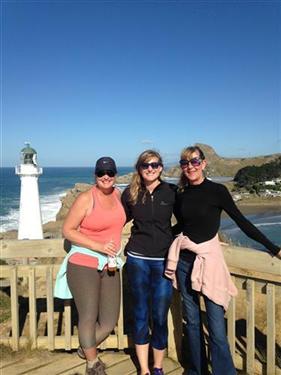 The successful hunts were celebrated every evening with home cooked three course meals shared together in the main house, followed up by drinks in the man cave while watching footage from the day's hunts and telling stories next to the fire.  Once stags had been taken, the focus was able to shift to other game, and as it so happened it was the start of our duck opening season.  Adrian, Chris and Koko – the passionate bird hunters – went out on opening morning to suss out the situation at a pond on a neighbouring farm.  This was followed up by an evening shoot with the whole crew, and more mallards brought home for the crockpot.  Time to kick back with a Speights Gold Medal!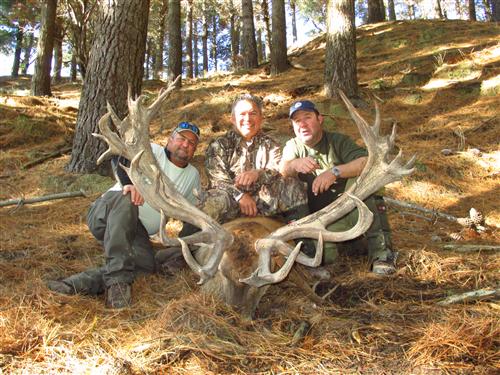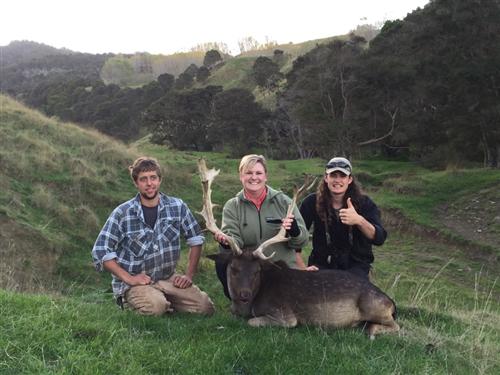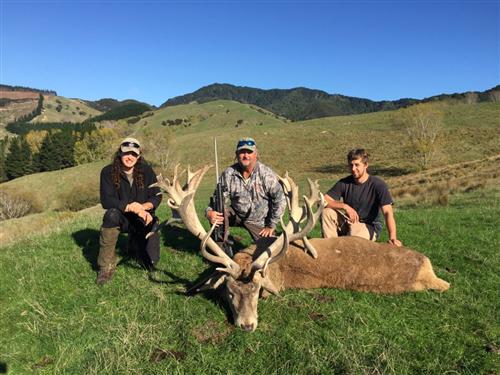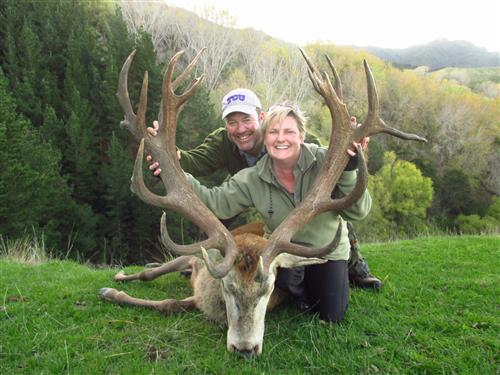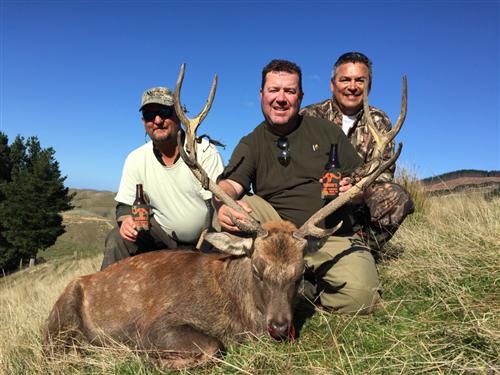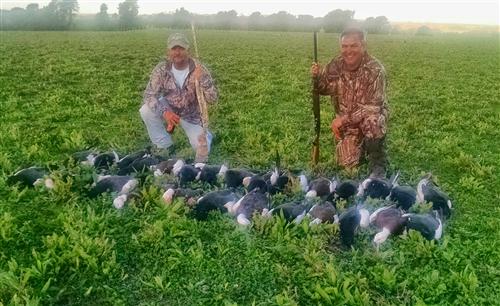 Well settled at Mountain Hunters home base, it was sad to have to leave, but we were only half way through the adventure and had plenty of activities ahead of us.  And besides, Jarrett had yet to test out his Meindl boots and Swazi gear in the rugged and mountainous Southern Alps!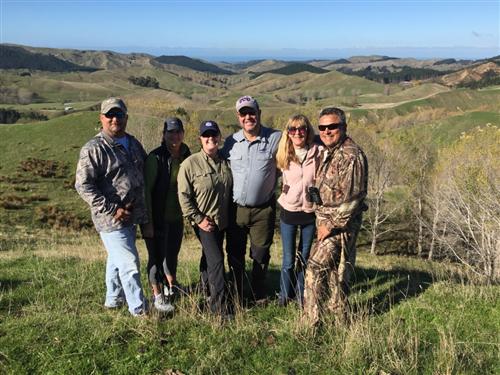 How do the guys hunt for tahr and chamois? What sort of wild weather is store for the group during their travels? Who emerges as the ultimate luge racing champion in Queenstown? Find out about the rest of the Mountain Hunters New Zealand Tour in the next instalment, coming soon!